Utvecklare inom AI & Machine learning till Umecon
Umecon står inför en spännande utmaning och söker kollegor som brinner för AI & Machine learning!
Umecon är det värderingsstyrda konsultbolaget med medarbetaren i centrum och hjärtat med i allt de gör. Bolaget navigeras av en ledare som lyssnar in sina medarbetares önskemål, deras kompetens och rådgör dem i alla steg de tar framåt i strävan att förbli en av Umeås bästa konsultfirma.

Med några av Umeås främsta konsulter inom IT – strävar vi efter kvalité, engagemang och att leva som vi lär, både hos våra kunder men även i vår egen vardag. Hos Umecon är kompetensöverföring och kompetensutveckling en självklarhet och vi tar ansvar och bidrar till både vår egen, och våra kunders utveckling i allt vi gör.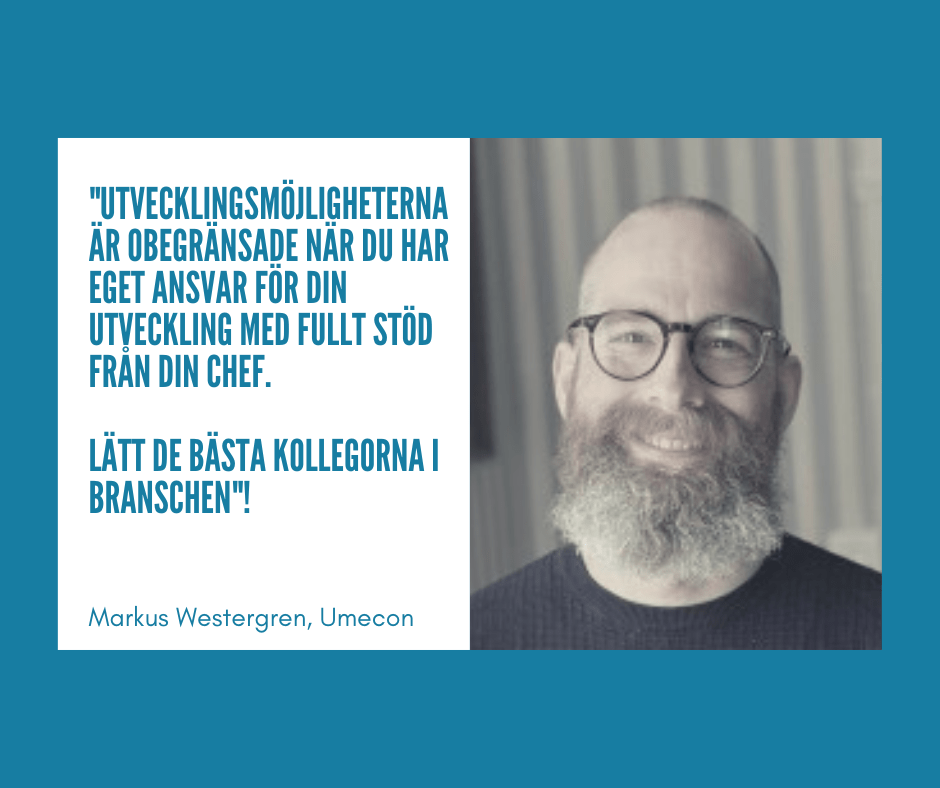 Din vardag hos Umecon
Umecon består idag av drygt 15 seniora konsulter som alla tror på att ta ansvar för sin egen utveckling, och som vill utmana och utveckla både sig själv, sitt team och våra kunder. Våra uppdrag är till största del ute hos kund och vi jobbar med både privata och offentliga verksamheter.
Hemma hos Umecon får du erfarna och duktiga kollegor, ta del av komplexa projekt och uppdrag, med möjlighet att få utbildningar i världsklass på hemmaplan. Du får inte bara en konkurrensmässig lön, utan även ett bra friskvårdsbidrag, tjänstepension, extra vårdförsäkring samt betald restid och övertid.

Vad förväntar vi oss av dig

För att bli vår nästa kollega tror vi först och främst att du delar våra värderingar. Som person är du självgående och nyfiken, med ett naturligt driv för ständigt lärande. Skulle du ha en fallenhet för AI och Machine learning är det ett plus.
Du har 10 års erfarenhet från programmering och van att arbeta med hela utvecklingscykeln och i agila team. Vår teknikstack varierar beroende på projekt, men för detta tror vi det är bra om du är bekant med Java & Python, kännedom om Data Synthetization, open shift & eventuellt ytterligare språk. Vi strävar efter att hålla hög kvalité i allt vi gör och även i vår interaktion med varandra och andra.

Vill du veta mer om din vardag hos Umecon skicka in en intresseanmälan eller ring Hanna på 0764148330 för en digital kaffe eller första samtal!
Vision & Mission
We want to make a difference - with all sincerity - for both talents and organizations.The way talents are perceived, and attracted to an organization; even beyond employment - how talents are nurtured and developed.
The purpose of Talentify is to help opanizations harness their human capital, as a core competitive advantage. With a passion for people and the focus to drive change and growth, we want to help companies strengthen their employer brand and their employees' long term success, together
In our connection with talents, we see potential, discover opportunities and become a sounding board in their careers to help find the right challenge for them as well as the right workplace according to their purpose and values.
We connect talents with opportunites, and companies with the right talents.
About Talent(h)ify AB
The foundation of Talent(h)ify emerged with the vision of changing the way you view recruitment and the concept of recruiting value-based. where both the company's and the talent's values are the focus in the match.

We stand between the talent and the organization ecause both parties need a sounding board in the process of changing their future. By acting as a broker between both parties – we ensure satisfaction and that the right match is being made.

We cooperate with carefully selected partners that works towards being a great employer and believe in sustainable leaders and employees and do their best to achieve so. We go the extra mile for our talents to find the right match.
Utvecklare inom AI & Machine learning till Umecon
Umecon står inför en spännande utmaning och söker kollegor som brinner för AI & Machine learning!
Loading application form